Follow-up page for NFL Athletes from XPE/Core Training on Boca Raton July 2016
Top athletes in 28 countries using ASEA for increased performance, endurance and recovery. 30+ patents and breakthrough clinical studies.
Here is the link to AEGIS SHIELD... https://www.aegisshield.com/products/asea-llc/asea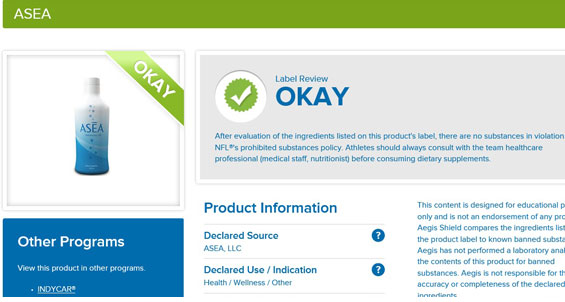 ASEA Information: Bill Jacques ASEA # 100736331
ASEA – my personal website. $40 to become an associate http://billjacques.myasealive.com/newsite/ Click on the Join Here tab on the top of this ASEA page.
Corporate site - http://aseaglobal.com/
Technical review site - http://www.theredoxdoc.com/
Redox Life Book - http://www.biorepmedia.com/books/redox-life
James Lawrence Ironman Tri-athlete uses it to complete 50 Ironman courses, 50 consecutive days, through all 50 States. http://www.ironcowboy.co/story/ https://www.youtube.com/watch?v=QW95Ie7yPuE
Great products for your wife and family too... many wives will turn it into a huge income opportunity to help people in their lives recover from many medical issues and have the best skin they have ever had in their life.
Call me at 941-445-7558 I'll help you get connected with the owners of ASEA and make you part of our growing family.
Be Well, God Bless and Stay Safe...
Bill Jacques
billjacques@comcast.net